Hatcher+ is Investing in One New Startup Every Day
Last month, we invested in one new startup every day - a rate that now ranks us as the most active venture investor in the world (or at the very least, among the top three....
Last month, we invested in one new startup every day - a rate that now ranks us as the most active venture investor in the world (or at the very least, among the top three.)  These deals include some of the best new startups to be found anywhere.  We're planning on keeping up this rate of investment for the next three years, using a staff of less than ten people.  How is this possible?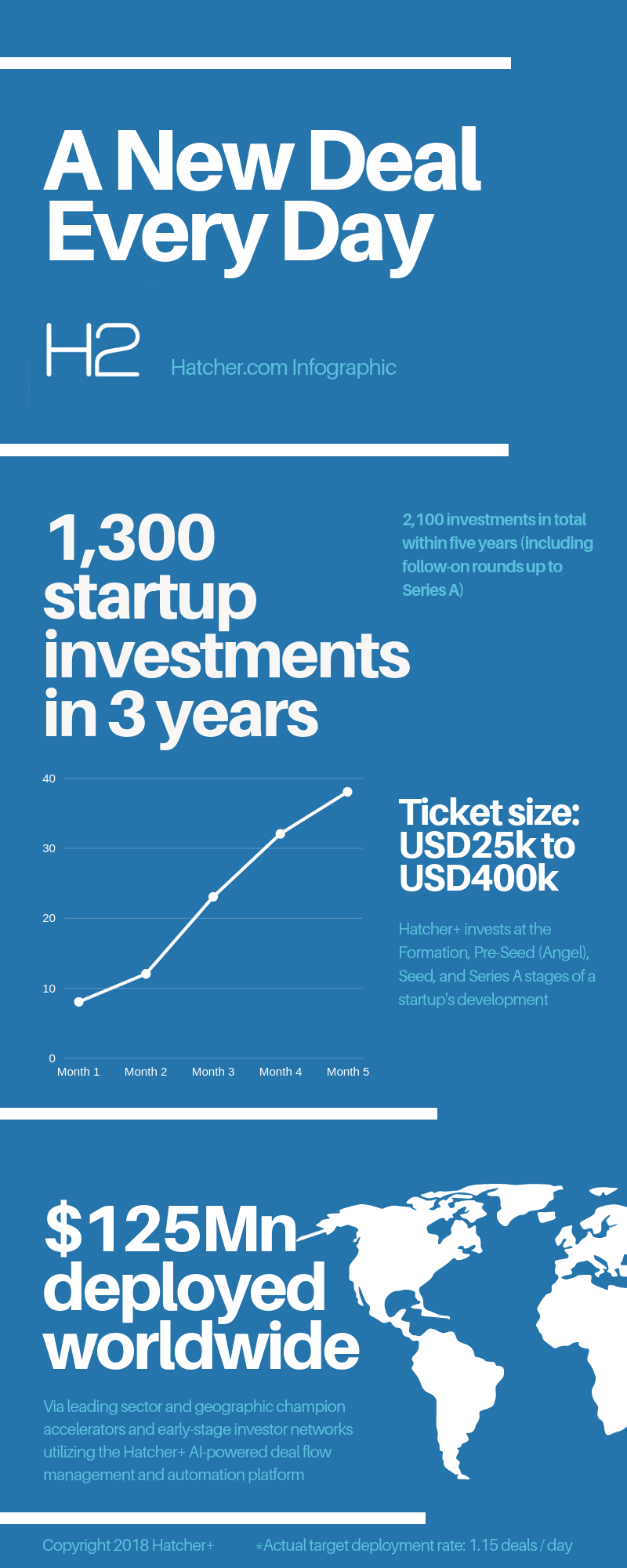 When we finished investing our H1 capital and started working on our strategy for H2, we knew what we wanted to do: we wanted to clean house with respect to existing processes and find a better approach to investing in early stage companies.  

One of the drivers?  Ego - or over-reliance on it.  We were not exactly comfortable with the level of "gut feel" investing that we saw ourselves and others doing (relative to the data-driven, technology-assisted managers of other asset classes), and as we started talking with other VCs, we became convinced that in general, deal funnels were not deep enough, the tools used to analyze and filter them not sharp enough, and the decisions not informed as much as they might be.  Everywhere we looked, we saw overworked resources, working hard to compensate for a lack of data, and manual processes.  
Information on the startups themselves remained "siloed" (or invisible), with accelerators and founders lacking even the basic ability to measure momentum or gain understanding of their competitive environments.  Early-stage valuations seemed to us to be, in many cases, simply made up or plucked from thin air.  Mentor programs were not resulting in quantifiable outputs, and inefficiencies were visible everywhere we looked - especially with respect to connecting companies to later-stage capital, be it through demo days, or referral networks.   
It took three years, but we've now investing on the back of a better system.  There's a longer essay a blog or two back that talks about the "four pillars" of our Hatcher+ Stack - about how we're using AI-powered data-mining and analysis, large amounts of automation, and a fantastic network of like-minded investor groups to scale and create a massively diversified global portfolio... but what this story is really about is our desire to manifest the two things that VCs really know how to do: scale, and disrupt.  
Advising companies on how to disrupt existing businesses is what VCs do best.  An ability to scale is the core attribute that every VC seeks in every business they invest in.  The difference is, this time it is the VC - Hatcher+ - that has found a way to successfully disrupt and scale itself.  It has found a way to "disrupt the disruptors".
---
John is a serial entrepreneur and investor, and the co-founding Partner of Hatcher+, a data-driven, globally-focused venture investment platform based in Singapore. In addition to leading capital raising and deal syndication, he is the visionary and architect behind the Hatcher Stack, the company's proprietary research and technology platform. Over the past five years, John has led numerous venture investments in early-stage companies, including ASYX, DocDoc, Dropsuite, Heardable, Invit, Inzen Studio, SocialCops, ThoughtRiver, and Telr - and syndicated over US$100Mn of additional debt and equity co-investment. IPOs and trade sales in which he was acted for the majority shareholder include Dropsuite (ASX:DSE) and Inzen Studio (ASX:ICI). His M&A work includes the merger of payment leader Telr with Dubai-based Innovate Payments, and the merger of Singapore-based companies DocDoc, and DoctorPage. Prior to co-founding Hatcher, John founded cybersecurity technology leader Authentium (acquired by CYREN in 2010), and acted as a director for global payments aggregator Mozido, and an advisor to Africa-based Gateway Communications, satellite technology developer MDS America, Kuwait-based Internet marketplace Sheeel.com, and Orion Partners, a $2B private equity fund manager based in Hong Kong.
The Best Investor Deck Ever
Views: 25,987
The Most Unrewarding, Misunderstood, Underrated Job on the Planet
Views: 22,712
The First 100 Are Funded!
Views: 18,419
Venture Capital Simplified - The Rule of 5X
Views: 13,644
The AI-Powered, Highly-Automated, Global-Diversified, Exchange-Tradable VC
Views: 12,178
Featured Authors Show All
Tags
venture capital, Hatcher+, AI, disruption, efficiency, scale