Hatcher+ v2.0 Release
What do you get when you combine four million dollars, one of the world's top data scientists, a bevy of application and business process automation designers, 26 of the world's best APIs, and thousands of users?  You end up with a pretty darn us...
What do you get when you combine four million dollars, one of the world's top data scientists, a bevy of application and business process automation designers, 26 of the world's best APIs, and thousands of users?  You end up with a pretty darn useful investment management platform - with some pretty useful features.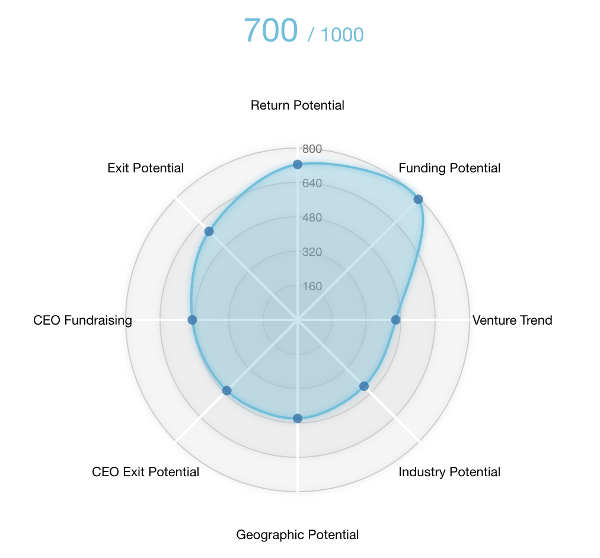 The latest v2.0 release of the Hatcher+ Stack venture management platform contains several important updates, plus a number of exciting new features - including AI-based venture trend analysis, integrated video interviews, and 5x faster Deal Flow Searching and Investor Matching.  Better still?  It's still *free* - for any venture investor that wants to use it.

AI-Assisted Deal Curation v2.0
We just released an update to our AI-Assisted Curation module. For the first time, our Predictive API includes a Venture Trend indicator, in addition to our founder fundraising and exit potential signals. Worried you're investing too late in a new technology? Our Venture Trend indicator helps you figure out whether the opportunity is trending negatively - or positively.
Fast Deal Search & Investor Mandate Matching
Our Deal Search functionality just got 5x faster - and our Investor Mandate Matching module (a replacement for our Contact Manager) logic has been rewritten to include Keyword Clustering and intelligent region-matching.
Expanded KPI Tracking
Our KPI tracking capabilities don't just focus on Budget vs Actual financial objectives, but also track multiple additional founder characteristics such as Ability to Scale, Fundraising Potential, Responsiveness, Transparency, and Social Media metrics - plus Cap Table and Campaign Management.
Expanded Mentor Management
Our Mentor Manager v1.0 featured some nice scheduling options - now our latest version 2.0 provides vastly expanded Mentor Management capabilities - allowing founders to review, book, request meetings, and rate and provide feedback on mentors directly from the Stack.
Onboarding Video Interviews
In addition to curating applications for funding, H+ Stack Integrated Video Interviews enables founders to provide team-wide answers to customizable questions, which can be further analyzed using H+ intelligence - or simply used to scale up your application process.
Integrated CRM
Our Activity Stream, CRM and Task Manager windows tell your community who is submitting applications to your business, and what is happening inside your ecosystem - while providing a window for your whole community, including your deal team, your portfolio managers, and, if you wish, your founders, mentors, and other community members.
Massively-Customizable, Multi-Language Front End
Our secure, customizable, multi-page website supports 18 languages and 51 currencies (including the top four cryptocurrencies) - and can be white-labelled with your brand in less than 15 minutes. SSL, custom HTML, and domain re-routing are 100% supported - branding extends from your front page through to startup profiles, reporting modules, and our secure datarooms.
Awesome, Intelligent, Popular, and... Free!
We built this platform to make our lives easier - and enable scale. By making the platform free, and using AI and machine learning in conjunction with our human partners, we can use greater amounts of data to create more useful algorithms, access a much larger deal flow as investors, and spot trends as they are happening - and share these findings with our our growing list of international partners.
Want to start using your own customized version of the Hatcher+ Stack? Email Alex Arul, Head of Client Services at alex@hatcher.com
---
John is a serial entrepreneur and investor, and the co-founding Partner of Hatcher+, a data-driven, globally-focused venture investment platform based in Singapore. In addition to leading capital raising and deal syndication, he is the visionary and architect behind the Hatcher Stack, the company's venture-oriented business process automation platform. Over the past five years, John has led numerous venture investments in early-stage companies, including ASYX, DocDoc, Dropsuite, Invit, Inzen Studio, SocialCops, ThoughtRiver, and Telr - and syndicated over US$100Mn of additional debt and equity co-investment. IPOs and trade sales in which he was acted for the majority shareholder include Dropsuite (ASX:DSE) and Inzen Studio (ASX:ICI). His M&A work includes the merger of payment leader Telr with Dubai-based Innovate Payments, and the merger of Singapore-based companies DocDoc, and DoctorPage. Prior to co-founding Hatcher, John founded cybersecurity technology leader Authentium (acquired by CYREN in 2010), and acted as a director for global payments aggregator Mozido, and an advisor to Africa-based Gateway Communications, satellite technology developer MDS America, Kuwait-based Internet marketplace Sheeel.com, and Orion Partners, a $2B private equity fund manager based in Hong Kong.
The Best Investor Deck Ever
Views: 25,838
The Most Unrewarding, Misunderstood, Underrated Job on the Planet
Views: 22,562
The First 100 Are Funded!
Views: 18,274
Venture Capital Simplified - The Rule of 5X
Views: 13,551
The AI-Powered, Highly-Automated, Global-Diversified, Exchange-Tradable VC
Views: 11,942
Featured Authors Show All
Tags
AI, ML, Hatcher+, VC, venture capital, investment management platform