How to Create a Killer Demo Day
The process of selecting startups gets a lot of focus when talking about accelerators - and deservedly so....
The process of selecting startups gets a lot of focus when talking about accelerators - and deservedly so.  But all that hard work - and all the hard work that follows during the next 90 or 180 days - doesn't mean anything if your Demo Day isn't well-planned, and better-executed.  We've spent the best part of two years talking with accelerators, looking at their processes, building technology to help plug the gaps, and helping to improve outcomes.  And a few months ago, we decided to start looking at how that technology could be used to execute a better/killer Demo Day.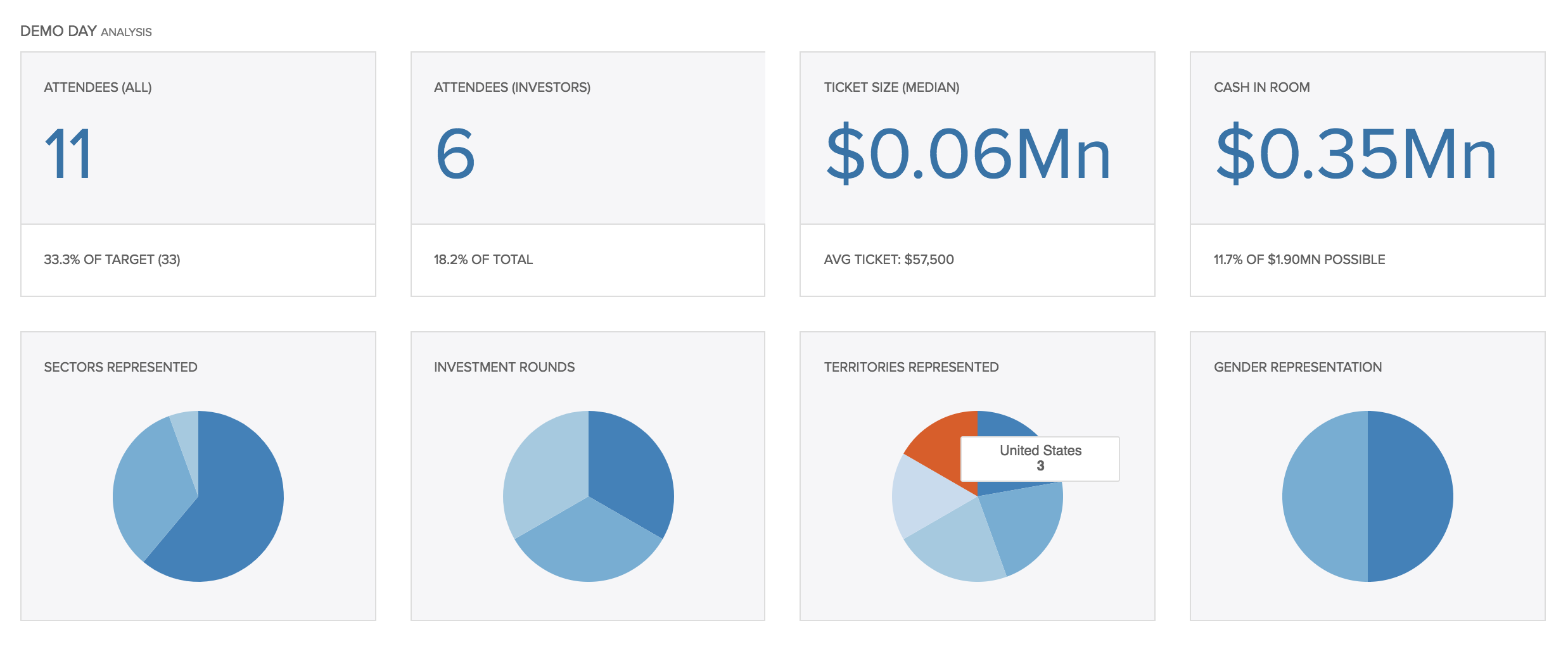 But first, some (relatively recent) history.
Demo Days were created to enable investors and entrepreneurs to meet up, pre-commercialization of the entrepreneur's technologies and business plans.  A successful Demo Day is dependent on two groups: investible entrepreneurs with at least the beginnings of an executable plan, and an active pool of investors willing to bet on these businesses at the precise stage the businesses are at.   
The conventional wisdom at accelerators has always been: focus on the entrepreneurs.  But as Y Combinator, Entrepreneur First, Keiretsu Forum, BlueChili, and many other successful and inspiring accelerators and angel groups have found, successful Demo Days are highly dependent on the quality of the businesses presenting, yes, but even more so on the quality of the investors attending Demo Day.
Think about it.  If the entrepreneurs are uninspiring or not "investible", the investors are left with a wasted day, but no cost other than that.  However, if there are no active investors in the audience - and by no investors, I mean no *active* investors that have invested in the SECTOR the company is focused on, and have invested sufficient funds at the STAGE the company is at, and are investing in the TERRITORY the startup is located in... then both the accelerator, and the startups, have a real problem.  More than anything else, successful Demo Days require a room full of active investors, that not only have money, but have the desire to invest in exactly the kind of companies they will see on stage.  
We created the Hatcher+ Demo Day Manager to help you figure out who is in the room (and match investors and deals), identify the gaps pre-show, and calculate how much is likely to be raised by the companies presenting,&nbsp The Demo Day Manager flips our selection focus away from the entrepreneur onto the investor, and, as with the entrepreneur, our profiling focuses on the necessary aspects of their investment history that matter most to accelerator executives and entrepreneurs, i.e.:
- Has the investor invested at this stage before?
- Has the investor invested in this sector before?
- Does the investor invest in the territories where the companies are operating?
- Is the investor currently an active investor?
You'll notice the use of the word "active" several times in this post - one thing that the better accelerators have in common is - they insist that investors *invest* - and in some cases, when they don't, the penalty is loss of an invitation to the next meeting.  Some accelerators that have tried this have seen follow-on investment rates of over 80% - versus an industry average of 46%. Certainly worth a thought.
So where are we on this? Can it be used? Sure it can. We're in beta right now - and while I think what we've built is already pretty useful, I look forward to the next version of the Demo Day Manager, which I expect will contain a lot (more) of the thinking of my incredible partners Dan Hoogterp and Wissam Otaky - the guys closest to the data and the accelerators, respectively.
Before closing out this post, I want to answer the question: to execute a killer demo day, you simply need to make sure there is excellence on both sides of the table - it's that simple. All we're doing is creating a tool that makes it easy to create and signup for the event, and makes it obvious where you are in the process - the rest is up to you: focus on getting active, well-matched investors in the room, and you'll have a great Demo Day.
Finally, I would be remiss not make the point that the Demo Day Manager includes gender representation in its analysis of the investor base.  One criticism faced by investment programs is the lack of diversity on both sides - specifically, the lack of women entrepreneurs, but also the absence of successful female investors.  
We believe that female executives should be given the opportunity, where possible, to present to a room full of investors that is not just balanced in terms of sector experience, stage experience, and geographic experience - but includes representatives from both fifty percentile groups.  We've included an indicator chart that hopefully will remind the folks looking at it that providing a level of diversity could pay dividends for everyone involved.  
Accelerators - to learn more, please contact Wissam Otaky at wissam@hatcher.com.
Entrepreneurs - read this: Y Combinator Guide to Demo Day Pitches
---
John is a serial entrepreneur and investor, and the co-founding Partner of Hatcher+, a data-driven, globally-focused venture investment platform based in Singapore. In addition to leading capital raising and deal syndication, he is the visionary and architect behind the Hatcher Stack, the company's venture-oriented business process automation platform. Over the past five years, John has led numerous venture investments in early-stage companies, including ASYX, DocDoc, Dropsuite, Invit, Inzen Studio, SocialCops, ThoughtRiver, and Telr - and syndicated over US$100Mn of additional debt and equity co-investment. IPOs and trade sales in which he was acted for the majority shareholder include Dropsuite (ASX:DSE) and Inzen Studio (ASX:ICI). His M&A work includes the merger of payment leader Telr with Dubai-based Innovate Payments, and the merger of Singapore-based companies DocDoc, and DoctorPage. Prior to co-founding Hatcher, John founded cybersecurity technology leader Authentium (acquired by CYREN in 2010), and acted as a director for global payments aggregator Mozido, and an advisor to Africa-based Gateway Communications, satellite technology developer MDS America, Kuwait-based Internet marketplace Sheeel.com, and Orion Partners, a $2B private equity fund manager based in Hong Kong.
The Best Investor Deck Ever
Views: 25,838
The Most Unrewarding, Misunderstood, Underrated Job on the Planet
Views: 22,562
The First 100 Are Funded!
Views: 18,274
Venture Capital Simplified - The Rule of 5X
Views: 13,551
The AI-Powered, Highly-Automated, Global-Diversified, Exchange-Tradable VC
Views: 11,942
Featured Authors Show All
Tags
accelerators, venture capital, Hatcher+, Y Combinator, Entrepreneur First, Keiretsu Forum, Demo Day, entrepreneurs, gender, angel investing