The Crane's Neck - Using Data To Improve Startup Portfolio Construction
One of the myths that persists about investing in startups is that little useful data is available at the earliest stages of a startup....
One of the myths that persists about investing in startups is that little useful data is available at the earliest stages of a startup.  Based on our analysis of tens of thousands of early-stage companies, and our continuing detailed analysis of thousands of early-stage deals every month from multiple co-investment partners and users of our BPA platform around the world, we would beg to differ.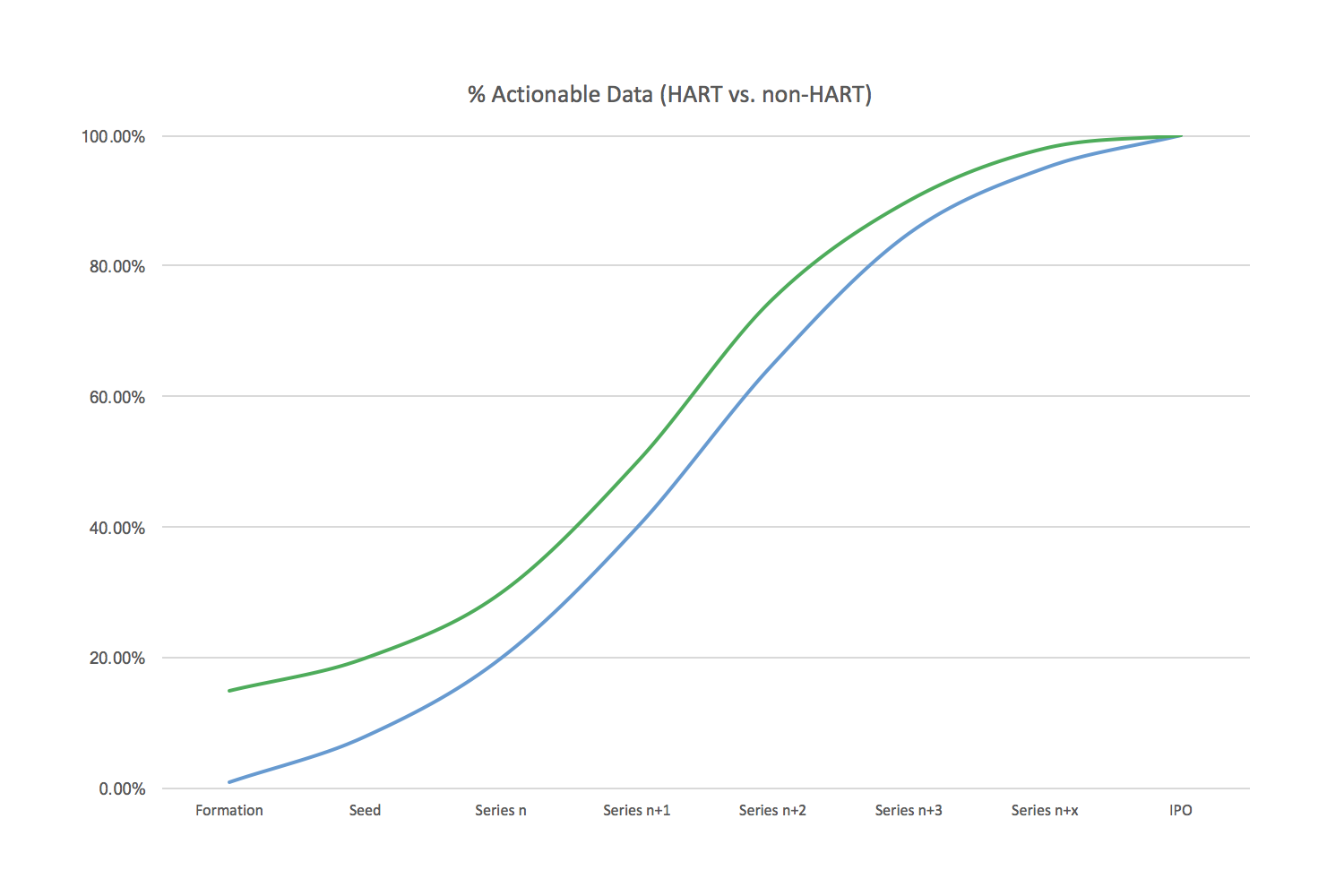 We've analysed how hundreds of investors, including funds and angel networks, obtain data on startups, and found that data-gathering strategies fall into two camps: those investors that believe detailed, highly-actionable data is obtainable at the earliest stages of a company's development, and those that don't.  For the purpose of this post, I'm going to call the representation of these two approaches, the "Crane's Neck".
Logically, whether you are designing an application form for an accelerator or a government census survey, the quality of data obtained is highly correlated to the quality and scope of the questions asked.  And if you start with the assumption that there is no meaningful data to be obtained, you are creating two problems: a lack of actionable data for your own uses, and a giant opportunity for someone willing to focus on the boring stuff - the design of application forms, stage-specific KPI/OKR tracking mechanisms, and gamification of this metric gathering.
Luckily for us, and our investors, we love focusing on the boring stuff - the "HART" acronym above refers to our combination of initial application testing, an approach that combines our Hatcher+ Score with a KPI tracking approach that focuses on Accuracy (with respect to budgeted Financial KPIs and OKRs, such as product development and marketing metrics), Responsiveness (to investor requests), and Transparency (how those requests are answered).
(The "ART" versus "Science" pun in play here is unintentional - by using gamification techniques to explore a founder's ability to be honest with us, and respond in a timely fashion, we're merely attempting to mirror the time-honoured traditional aspects of investing - and looking for indicators of trust and reliability.)
I'm not going to attempt to explain the science and inner workings of our data-gathering strategy - I'll leave that to my Hatcher+ partner Dan Hoogterp, and his excellent just-released white paper "Venture Data Analysis and Forecasting" (if you'd like a copy, please email me).  I just want to note a few points - mainly for the consumption of entrepreneurs and new investors - about the kind of things you can obtain actionable data on if you ask the right questions.
Example: Team vs. Domain Expertise
I've been on panels at a number of conferences in the past year and at every one of them, you hear the moderator ask: "what is the most important thing to consider when investing in a startup" - and the answer is almost always "the team" (Bill Gross, the founder of IdeaLab, has a video with a different answer based on his analysis of 104 startups that is totally worth six minutes of your time if you've not yet seen it.)
"Team" is obviously a good high-level answer about a very important predictor of success - and Gross' Ted talk bears that out - but what smart investors are looking for is the "domain expertise" sitting inside your team.
I.e: If your startup is seeking to remove plastic from the oceans using plastic-eating bacteria launched from high-altitude balloons using government funding - then, for my money, I'm looking for a guy on the team that has raised money from governments before (and has spent some serious time navigating international regulations), someone experienced in the launching and maintenance of high-altitude balloons, and someone with more than just a textbook understanding of how to grow organisms at scale.
There are multiple ways forms (or interviews) can be designed to capture this data.  And Dan, who leads our data efforts, is using multiple methodologies to capture it.  And he would say, if you have the will, that's (relatively) easy.  The real challenge is validating that input.  Validation must move beyond intent (many founders have excellent intentions) - and extract indicators that the team has the domain expertise - in every area - necessary to execute their plan.
Traditionally, to do this, interviews are conducted with the founders of interesting startups that pass the initial tests related to scalability of the technology and marketing strategy, TAM (the "Total Addressable Market"), and unit economics - but clever interviewees can often be quite convincing, and passion can sometimes convince even the most experienced investor, especially when it comes to new technologies and new "green field" areas of endeavour.
New, more advanced methodologies are needed - approaches that can be applied prior to and during the interview process.  And that comes down to not only asking the right questions, but to the core questions that all investors are familiar with: truthfulness/veracity with respect to what is being stated by the founders, validation of experience at the founder level, defensibility of the intellectual property (or proposed IP, if not yet built), and a solid representation of the critical challenges the company will face when it comes to market.
This is our area of focus and we're currently testing technologies we hope will place us on the upper curve of the Swan's Neck.  The benefits of doing this at the earliest stages are manifest: Enhanced risk reduction, improved resource usage (including better gap analysis and selection of the appropriate mentors and advisors), more actionable data (and a better understanding of valuations and capital requirements) - and a higher-quality portfolio construction strategy that can enable investment at scale.
---
John is a serial entrepreneur and investor, and the co-founding Partner of Hatcher+, a data-driven, globally-focused venture investment platform based in Singapore. In addition to leading capital raising and deal syndication, he is the visionary and architect behind the Hatcher Stack, the company's proprietary research and technology platform. Over the past five years, John has led numerous venture investments in early-stage companies, including ASYX, DocDoc, Dropsuite, Heardable, Invit, Inzen Studio, SocialCops, ThoughtRiver, and Telr - and syndicated over US$100Mn of additional debt and equity co-investment. IPOs and trade sales in which he was acted for the majority shareholder include Dropsuite (ASX:DSE) and Inzen Studio (ASX:ICI). His M&A work includes the merger of payment leader Telr with Dubai-based Innovate Payments, and the merger of Singapore-based companies DocDoc, and DoctorPage. Prior to co-founding Hatcher, John founded cybersecurity technology leader Authentium (acquired by CYREN in 2010), and acted as a director for global payments aggregator Mozido, and an advisor to Africa-based Gateway Communications, satellite technology developer MDS America, Kuwait-based Internet marketplace Sheeel.com, and Orion Partners, a $2B private equity fund manager based in Hong Kong.
The Best Investor Deck Ever
Views: 25,987
The Most Unrewarding, Misunderstood, Underrated Job on the Planet
Views: 22,712
The First 100 Are Funded!
Views: 18,419
Venture Capital Simplified - The Rule of 5X
Views: 13,644
The AI-Powered, Highly-Automated, Global-Diversified, Exchange-Tradable VC
Views: 12,178
Featured Authors Show All
Tags
portfolio construction, startups, investments, Swan's Neck, venture capital, artificial intelligence, machine learning